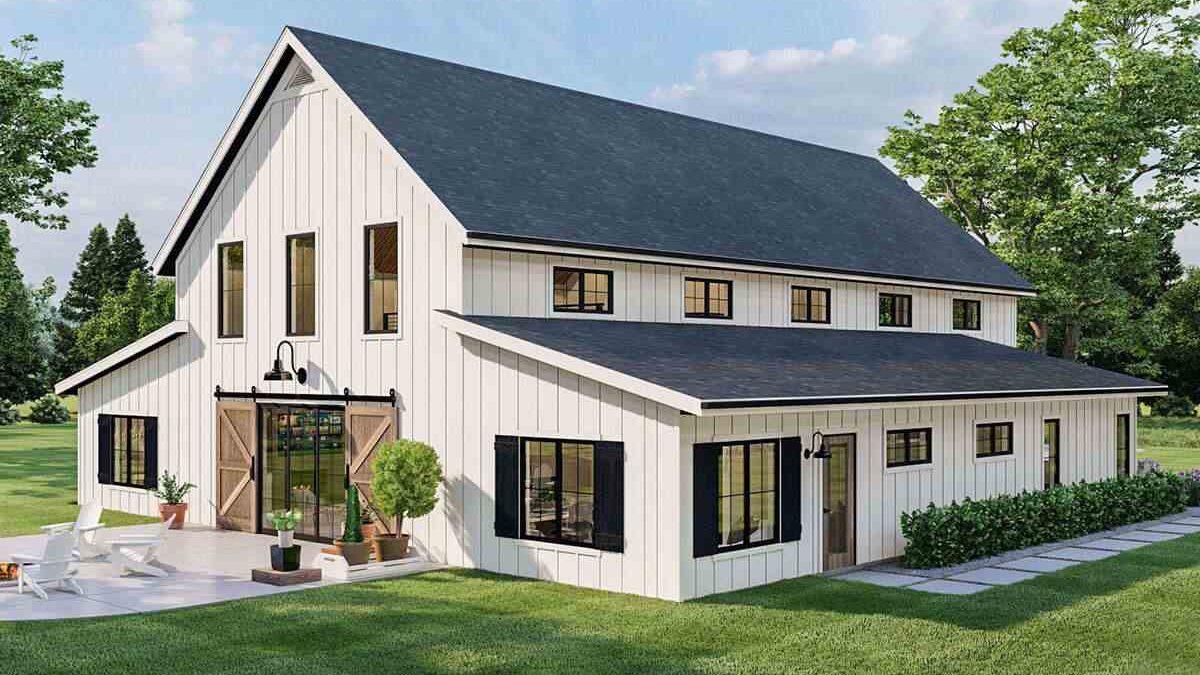 Barndominiums are precisely what they sound like, a condominium that uses the features and structure of a barn. Since the rise in the popularity of tiny homes, people have been looking for unique ways to create the perfect house. Barndominiums combine your favorite features of traditional housing structures with a new take on upscale barns and country design.
While barndominiums provide a unique look, their design is only one of the many reasons they are trending. These homes are affordable, highly durable, easily customizable, and can save you tons of money in repairs and energy bills in the long run. With that being said, being aware of the specifics of what a barndominium is and its benefits can help you decide whether one of these steel building kits is right for you.
Understanding What a Barndominium Home is
When you are building a home, there are tons of customizations you can make. However, customizing and building a traditional home is extremely expensive. When it comes to barndominiums, customizing your home is much more affordable.
While you can customize almost every aspect of your barndominium, most of these buildings have similar features to barns. The features you can expect to find in every barndominium home include:
Rustic staircases
Beautiful barn doors
High ceilings
Energy-efficient windows
Wrap-around porches
Open-concept floor plans
Barndominiums take the best features of barns and mix them with your favorite characteristics of condominiums. Because of this, they are often referred to as "barndos".
What are the Benefits of Barndominium Homes?
If you love the idea of living in an unconventional home, barndominiums are right up your alley. While living in a metal barn might not sound great, these structures are upgraded, finished, and furnished to create a highly contemporary look. One of the most obvious benefits of barndominiums is the style they provide, however, there are many more to consider.
The top benefits of choosing a barndominium include:
Highly Customizable
Barndominiums do not require tons of huge support columns that take up space in the interior of your home. This provides you with an airy open floor plan, allowing you to custom-tailor your home to any style you like. Whether you are going for a traditional country aesthetic or something completely out of the box, you can achieve your vision with a barndominium metal home kit.
For example, many people choose to build a barndominium that provides them with two spaces in one. To explain, barndominiums can be created large enough to provide you with room for living and add in a workshop, warehouse, gym, or any other type of space you'd like to create. Additionally, many people are choosing to combine their living space with a business, such as a restaurant, bar, or even a retail store.
Lastly, it's important to note that it is extremely easy to add to a barndominium later. In other words, if you need to save up extra money to complete your final vision or just want the option to customize your home later on, barndominiums are a perfect choice.
Quick Construction
Typically, when you are building a custom home it takes at least 12 months for construction to be finished. Some homes might even take multiple years depending on how much customization you have done. However, barndominiums are extremely easy to construct, which means it doesn't take as long for them to be built and ready to move into.
If you are thinking of building a barndominium, you will be impressed to know that most of these homes can be built and finished after only 6 months. Not only does this mean you can move into your new home faster, but it also saves you tons of money in labor costs.
Durability
Because barndominiums are made out of metal, they are extremely durable. Depending on where you live, you might experience extreme weather. For example, Florida suffers from tropical storms and hurricanes while the western region of the country struggles with wildfires during dry times of the year.
Metal barndominiums can withstand any type of severe weather, from hurricane-force winds and heavy snow loads to wildfires and more. This means that no matter where you live, you can rest assured that your new home will withstand natural disasters. commercial real estate investment
Affordability
Traditional homes can be extremely expensive, especially if you are building your own. While they usually cost about $145 per square foot, barndominiums range from $35 to #125 per square foot, making them the more affordable option.
Even further, barndominiums require much less maintenance over time. While traditional homes often deal with water damage or pest and mold infestations, barndominiums rarely have these issues. This means your yearly home maintenance costs will be virtually non-existent.
Energy Efficient
Barndominiums are metal, which means your roof will made out of steel. Because of the high reflectivity rating of metal, you will conserve tons of energy.
Additionally, the steel makes it extremely easy to insulate your home. Barndominiums provide expert insulation and weatherization against natural elements, preventing you from needing extra cooling or heating devices. In other words, barndos are good for the environment and your wallet.
Start Your Free Barndominium Consultation Today
If you are interested in creating your own highly customized barndominium home, Titan Steel Structures is here to help. We can provide you with a free consultation to help you determine the intricacies of your new building plan, estimated costs, and a timeframe for construction. To learn more about the benefits of choosing a metal home-building kit, contact us today.