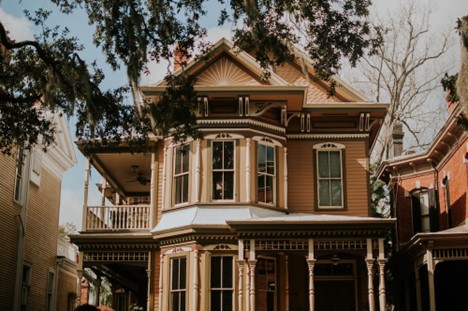 Renovating Historic Homes
Renovating a historic home is more work than renovating just any house. In places like West Palm Beach, the importance of historic preservation is evident. In Palm Beach County, there are no less than sixteen buildings, many of which were built during the late 1800s, that have been preserved by local residents, the government and organizations.
These buildings and homes are true architectural treasures that highlight the balance between conserving history and embracing modernity. Such historic structures warrant meticulous care during renovations to retain their charm. But with thoughtful planning and the right touch, modern updates and conveniences can be woven seamlessly, providing these homes with a fresh chapter while honoring their storied past.
Creating a Preservation Plan
Develop a preservation plan before finalizing renovation plans. This key document will guide decision-making throughout your project.
Identify the period of significance for your home. This is the time when the home gained importance, often when the original owners moved in and established its design. Significant additions or alterations may extend the period of significance.
Determine which materials, features, and spaces should be prioritized for preservation. Assign them each a preservation priority level, such as:
Priority 1: Original features that must be saved. Damage should be repaired wherever possible.
Priority 2: Significant historic features that should be preserved yet could be cautiously altered or relocated if necessary.
Priority 3: Non-original features that may be removed or altered.
As you establish these priorities, it's worth noting that some renovation phases may necessitate the temporary removal of historic items or furniture. In such cases, the safe storage and handling of these pieces become paramount. Especially in cities with rich historical backgrounds like West Palm Beach, homeowners are encouraged to consider local expertise. Opting for a reputable West Palm Beach moving company ensures that the historical integrity and care of your items remain intact during the transition.
This information will help you make choices if any aspects of your renovation plans conflict with preservation goals. With a careful plan, you can complete your project while safeguarding the home's irreplaceable historic elements.
Assessing Your Historic Home's Needs and Potential
Before starting your renovation project, take time to thoroughly assess your historic home. Evaluate which areas are in good original condition and should be preserved versus spaces that need repairs or updating.
For instance, homes like The Tindall House in West Palm Beach, which was built in 1892 and considered the oldest existing home in Palm Beach County, could provide unique architectural insights that newer properties might lack.
Make sure to carefully assess the floor plans and style of your home and survey the condition of walls, floors, ceilings, and roof. You may also need to inspect electrical and plumbing systems to update these for modern functionality.
Maintaining Interior Historic Fabric
When updating interior spaces in a historic home, retain as much original fabric as possible. Take care to preserve:
Avoid significant changes like moving walls and doors. Respect the original room sizes, connections, proportions, and sight lines.
Carefully preserve columns, cornices, baseboards, fireplace mantels, picture rails, and other decorative details that define historic spaces.
Repair damaged plaster walls and ceilings rather than replacing them. Refinish historic wood floors, paneling, and trims. Retain vintage tilework, stone surfaces, and masonry fireplaces if possible.
Rewire original light fixtures to update wiring and bulbs. Supplement with new fixtures that don't make the home lose its vintage charm.
Clean, restore and reuse door knobs, hinges, locks, hooks, switchplates and other hardware. Replace missing pieces with vintage items that fit the period.
Repair original wood windows rather than replacing them. Add interior or exterior storm windows to improve efficiency. Retain the window trim, sash cords, and weights during any window repairs.
Preserve and refresh built-in cabinets, shelves, benches, crannies, and other period features. If possible, please do not replace them, as these reflect the original architecture and use of space.
Take a gentle approach to surfaces. Use the least invasive, most reversible methods to avoid damage. Even small material losses can forever change the feeling of historic spaces.
Updating Systems While Maintaining Integrity
Modernizing outdated systems is often essential for comfort and functionality when renovating a historic home. Take steps to limit changes to the property's physical integrity.
Electrical
Retain original light fixtures and wall sconces. Rewire and update them with LED bulbs.
Reroute wiring through walls and ceilings rather than surface mounting. Hide conduits and junction boxes.
Install new wiring, outlets, and switches discreetly by fishing wires through walls and baseboards.
Place large updated electrical panels and equipment in utility areas rather than prominent rooms whenever possible.
Plumbing and HVAC
Reuse existing supply lines and update drain pipes in place.
Install ductless mini-split systems to add air conditioning with minimal visual impact.
Place bulky new mechanical equipment like furnaces and water heaters in basement/attic spaces, not historic rooms.
Smart Home Technology
Select slim, small profile devices to minimize visibility.
Use wireless networks and sensors rather than running visible wires.
Place hubs, routers, and controllers in closets or utility spaces.
Program schedules and settings to automate climate control and lighting needs.
Upgrade systems discreetly by taking advantage of existing infrastructure and hiding new components. Avoid damaging historic surfaces and altering the home's original layout.
Creating Kitchens and Baths That Meet Modern Needs
Kitchens and bathrooms often require major upgrades to accommodate contemporary lifestyles. These spaces may have been remodeled previously, so restoring the original architecture may not be possible.
Take a preservation approach to the exterior. Remember, original materials and details maintain vintage curb appeal.
Celebrating Your Home's History
A historic home renovation is also an opportunity to celebrate the property's unique history. Consider the following ideas:
Research the original owners using local records and resources. Learn about their contributions to the community.
Highlight interesting architectural features on a renovation tour for friends or during local heritage events.
As seen in West Palm Beach's evolving housing market, where the average house price was recently around $405K, historic homes can reflect a city's growth. Create a display with historic photos, building records, architectural drawings, and other artifacts from the home.
Create a display with historic photos, building records, architectural drawings, and other artifacts from the home.
Restore original furnishings, fixtures, and finishes to recapture period charm.
Uncover hidden decorative details like wallpaper or medallions during the renovation and preserve the finds.
Toast the renovation completion with a housewarming party evoking the home's era through decor, music, food, and a dress code.
Finding meaningful ways to honor your historic home's legacy makes the renovation process even more rewarding.
Conclusion
Renovating a historic home takes special care, patience, and creativity. But the rewards are plentiful. Preserving original architecture, materials, and charm allows these one-of-a-kind places to endure for future generations to appreciate. By following preservation standards and techniques, you can successfully rejuvenate your home with smart updates. Take pride in sustaining your historic home's irreplaceable character while adapting it for modern living. With your thoughtful renovations, this piece of local heritage will continue welcoming residents for decades to come.