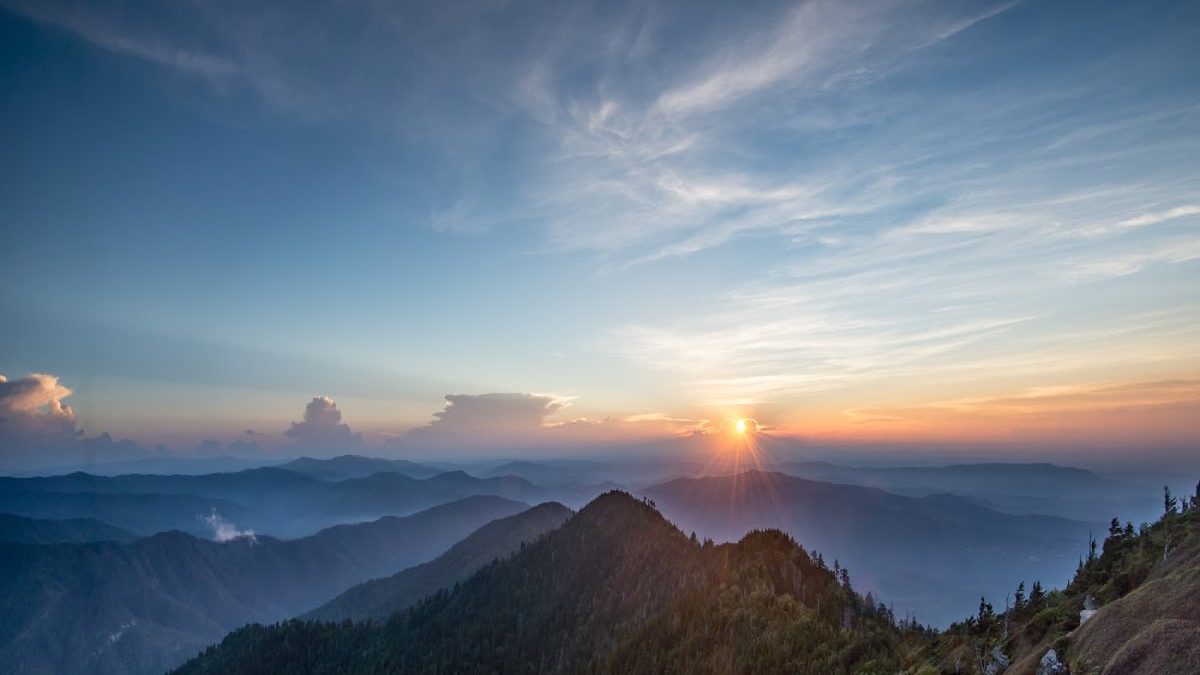 There is nothing quite like bright sunshine to cut through the brain fog, crisp mountain air to reignite the senses, and a vast forest labyrinth to reinvigorate the joie de vivre. The natural world always offers healing and adventure to those who seek it, and the Great Smoky Mountains are one of its most magnificent venues.
With its crystalline rivers, graceful peaks, and diverse wildlife, it's easy to see why Eastern Tennessee is a bucket-list destination for adventure seekers and nature-lovers alike. Whether you're interested in visiting waterfalls, exploring caves, or chasing outdoor thrills, this list barely scratches the surface of all the wonderful outdoor things to do in Pigeon Forge.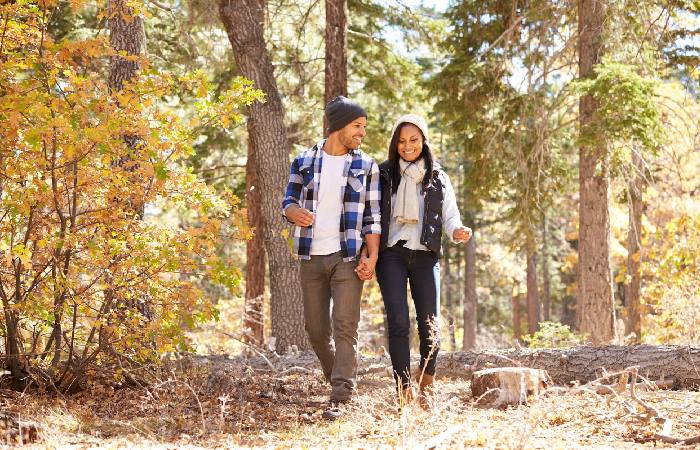 Hiking
The Great Smoky Mountains National Park boasts more than 800 miles of trails catering to various skill levels, each with unique and awe-inspiring features. Are you a fan of waterfalls? Check out the stunning Rainbow Falls on the Rainbow Falls Trail. Prefer hiking through an old-growth forest? Head to the lush Alum Cave Trail, featuring some of the oldest trees in the park. If history is your thing, then the historic structures scattered across Cades Cove will be a treat. No matter which trail you choose, there is guaranteed to be crisp mountain air, stunning vistas, and forest creatures contributing to an exhilarating hiking experience.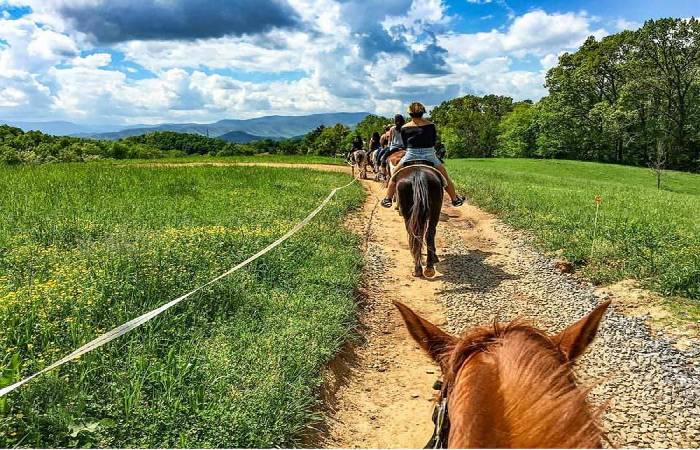 Horseback Riding
If your tired feet have gotten their fill of hiking, there's still a way to explore the breathtaking scenery of the trails. Jayell Ranch offers guided horseback rides through their 260-acre ranch, giving you the chance to experience the beauty of the mountains from a new perspective. Their tour covers four glorious miles untouched by civilization, where you can spot the breathtaking Mount LeConte, Shield's Mountain Fort, and even glimpses of Western North Carolina.
You don't have to have prior riding experience, either. Their professional guides will take you through the ups and downs of the mountainous terrain while ensuring your safety every step of the way. Plus, the friendly horses at Jayell Ranch are truly remarkable creatures. As they guide you to their favorite spots and share the magnificent views with you, you'll feel like you're adventuring with an old friend in a world away.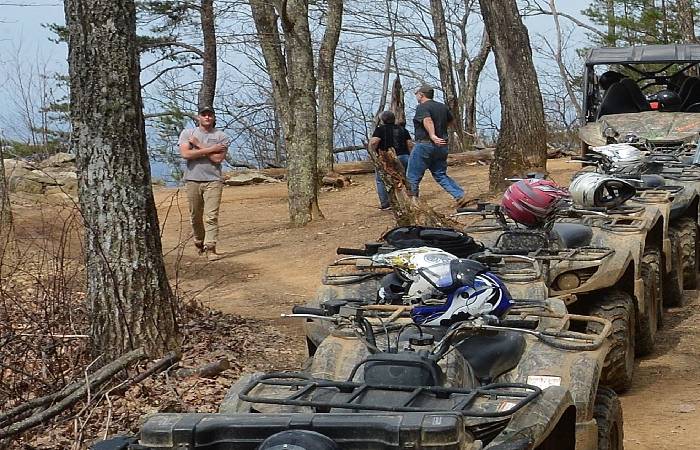 ATV Riding
There's also nothing wrong with trading your trusty steed for a mechanical one. A riveting ride on an all-terrain vehicle (ATV) is an exhilarating way to explore the Smoky Mountain outdoors. Bluff Mountain ATV Rides offers guided tours on trails ranging from gentle terrain to steep hills, providing skill-appropriate challenges for both beginner and advanced riders.
You'll get to choose from a variety of automatic four-wheeling vehicles, like 450 ATVs and Rhino/Wolverine UTVs. Once you're ready to rev your engines, you're ready to explore the 6,000 acres of foothills and climb 2,300 feet to reach the top of Bluff Mountain. Along the way, you'll be treated to spectacular views of the mountain and forest landscapes, not to mention the excitement of drifting through curves at top speeds!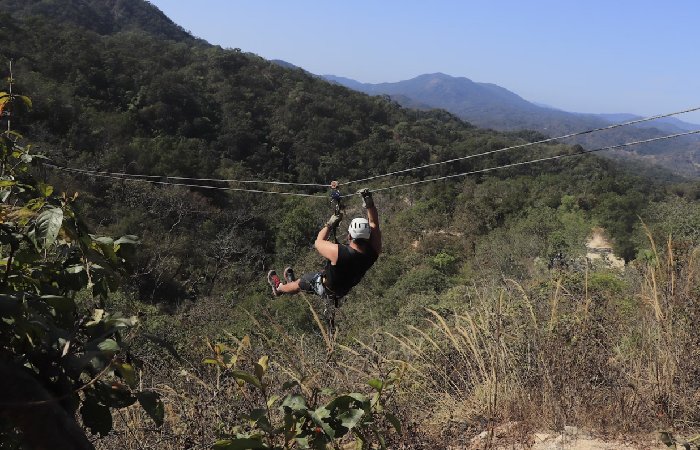 Ziplining
When you're looking for an adrenaline-pumping experience, rest assured that CLIMB Works Zipline will take you to new heights. This two-hour journey will have you soaring through the trees, rushing past scenic landscapes of the Great Smoky Mountains National Park and feeling the wind in your hair.
It begins with a thrilling ATV ride to the top of the mountain, so that you can take your descent on six dual ziplines. You'll encounter four aerial bridges as you traverse the forest canopy and conclude the treetop adventure with a rappel back to ground level. At every turn, you'll be surrounded by stunning scenery, such as mountain creeks, valleys and ridgelines. This action-packed outdoor adventure is guaranteed to get your heart racing!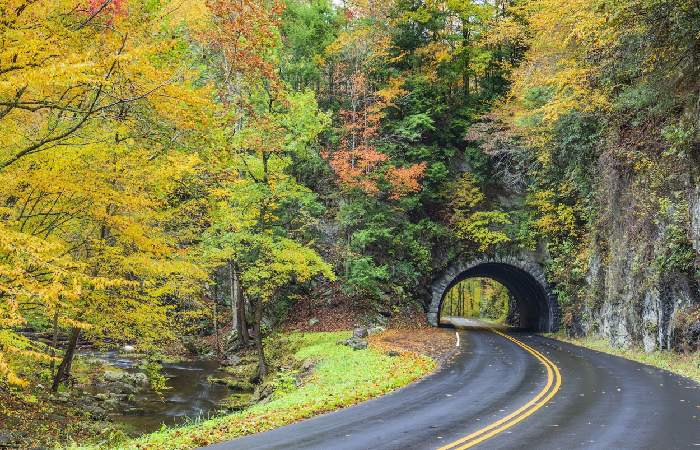 Scenic Driving
The scenic routes in the Great Smoky Mountains region promise the most awe-inspiring escape of your life into a natural wonderland. There is beauty to behold no matter the time of year: the vibrant colors of fall, the delicate snow-capped vistas in winter, the invigorating smell of fresh air and soil in spring, and the diversity of wildlife sightings in summer. With multiple scenic driving tours to choose from, you'll be spoilt for choices, each giving way to awe-inspiring photo opportunities at scenic overlooks.
To elevate your scenic driving adventure even further, rent a 2-seat Polaris Slingshot from Wranglers & Razors. Once you're all buckled up in your hot new ride, take the majestic Roaring Fork Motor Nature Trail, which weaves along past rushing streams and historic cabins. Or, drive through the stunning Appalachian Mountains on the Blue Ridge Parkway. If you're looking for a more serene route, the Foothills Parkway offers stunning views of rolling hills, while the Cades Cove Loop beckons with picturesque homesteads and abundant wildlife. Your chosen route is sure to thrill your adventurous soul in a way unlike any other travel destination.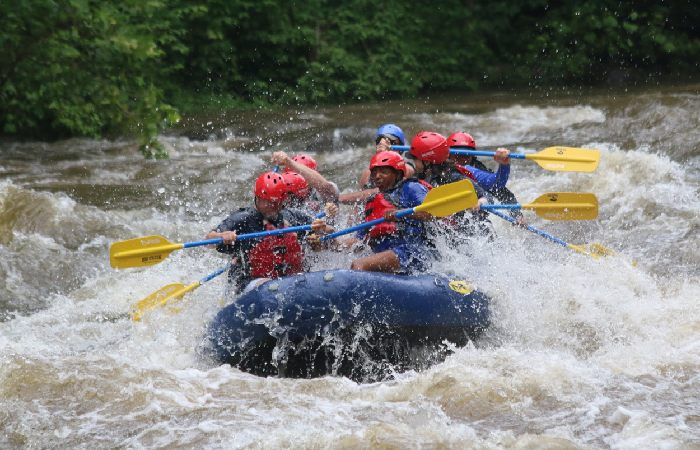 Whitewater Rafting
After hiking, horseback riding, ATVing, and driving the scenic routes, you might be surprised to hear that some of the best trails in the Smokies are made of water. Paddle your way down the raging rapids and serene waters of the Pigeon River on a sensational whitewater rafting adventure!
Whether you're experienced or not at whitewater rafting, Big Creek Expeditions will show you the ropes and keep you safe. Their certified professional rafting guides offer three tours. The Upper Pigeon Whitewater Trip coasts through intense Class III and IV rapids, a real challenge for thrillseekers! Meanwhile, the Lower Pigeon Scenic Float, ideal for beginners and children age 3 and up, provides a gentle introduction to the sport with Class I and II rapids. The Full-Day Whitewater Adventure combines both the Upper and Lower Pigeon River sections for hours of excitement. There's no better way to enjoy the outdoors than in a splash-filled voyage!
In Conclusion
The Great Smoky Mountains are an adventure-filled playground for outdoor enthusiasts with an appreciation for natural beauty. Some may choose to get lost on a hike in the vast old-growth forests. Others may opt to befriend a horse or drift around curves in an ATV. Perhaps you prefer to view these extraordinary mountains from the air on a zipline or from the water in a raft. Or maybe it's always been your dream to rent a sweet ride and take her for a spin among the scenic overlooks. With countless exciting ways to experience the great outdoors, this one-of-a-kind destination beckons you to come and explore its wonders.