Travel Write For Us
Countrylivingblog allows the author to write Guest posts per our niches Travel & holidays, Real estate and more. Contributing to Countrylivingblog will give you more audience on your page. We always help people who start up a small business. Moreover, if you are a Travel blogger, Travel writer or want to share information about places to visit. You could send your idea or Content on contact@countrylivingblog.com
What are we Looking For?
However, there are a lot of travel blogs out there, each with its distinct style. We… well, take a few minutes to read the other posts on our site, and we hope you get an idea of what we're in for: incredibly detailed travel information with a bit.
So when it comes to your presentation, your voice and the depth of travel information you share are critical!
What We Get and What You Get?
What do we get:
More great stories/posts to share with your readers and friends.
Growth and the opportunity to show the world more destinations.
 What did you get:
A platform to share your stories and journeys.
A place to call home.
Opportunity to be featured on Countrylivingblog.com
A link to your blog if you have it.
Shared across our social media channels so more people can see your work.
Destination You can Write For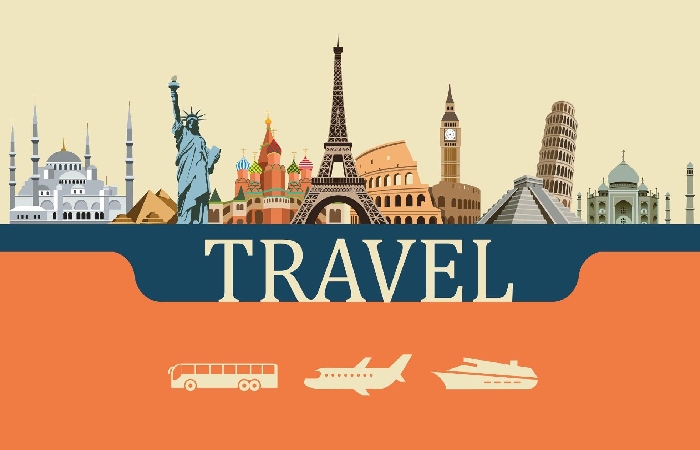 Meanwhile, We mainly accept pitches from the United States Of America, Europe, London, the UK, and Canada.
Moreover, Countrylivingblog is related to your requirement of Travel, so you could also Write about Destination Such as
Saudi Arabia
Dubai
California
Montana
New Zealand
Australia
New York
Las Vegas
Tennesse
Ohio
Florida
Georgia
Germany
Paris
North Europe
The West ( UT, NM, Co, All of it)
Pacific Northwest
Singapore
The Topics And Types Of Posts We Seek
These are the types of posts we currently accept:
Day trips and weekend getaways in/near major US cities:
What are some of the coolest places to visit near a big city? What hidden gems our readers should not miss. How can you encourage readers to go out and explore these areas? Here is an example.
Local Guides:
Tell us all about your city! What should we do and see, where should we stay, what should we eat, and what inner secrets do you have that only the locals will know.
Best Hiking Trails in a City, State or Region:
What are the best trails to take in some great scenery, see local wildlife, or get some exercise? We want to know why you think these are the best trips for an active vacation. This is an example of trails in Utah.
Family Road Trip Ideas:
What are your favorite destinations, cool stops along the way, and attractions or activities the kids will love? Do you have a place that must be seen?
Vacation Rentals and Campgrounds:
We'd love to hear about vacation homes, cabins, or campgrounds that you love, your experiences with them, and why they're a great recreational option for families. Please include information such as how many bedrooms/bathrooms you have, where you are located (region or city), whether or not there are kitchenware, what facilities are included, etc. This is an example of an all inclusive resort in Saint Lucia.
Family Adventures:
We're looking for articles with creative suggestions for fun family activities in or around your city or state. Have you ever taken an exciting outdoor trip with your kids? Did you and your kids come up with an innovative idea that has become a family tradition? Here is an example post about cool things to do in Oklahoma City as a family.
Road Trip Itineraries:
Create the perfect road trip through your state, with each day's breakdown of what to see, do, eat, and where to sleep.
Send Us Pitch
If you have a great idea or wanted to contribute your article in Infront of millions of people then but don't know where to submit it? A country living blog is a best-and-fit site for Travel& holidays, food, real Estate, Home decor, Improvement, maintenance and much more. Therefore, if you have any queries send a pitch to us at contact@countrylivingblog.com
Guidelines of the Article Travel Write For Us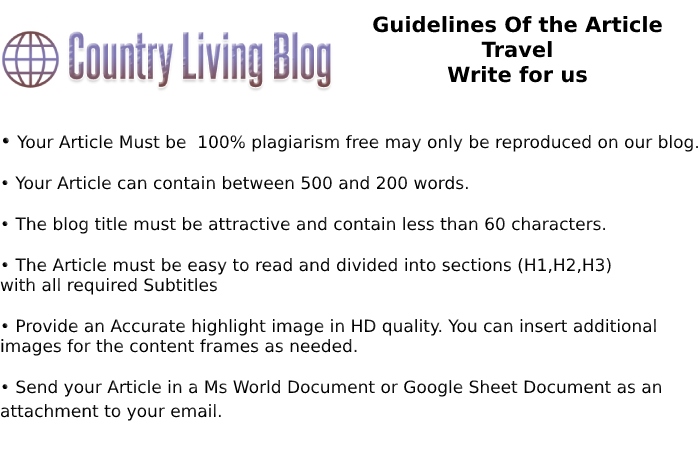 You Could also send your article to contact@countrylivingblog.com
How Do You Submit An Article To Countrylivingblog.Com?
Meanwhile, Are you eager to view your article on our website? Then you can reach us at contact@countrylivingblog.com and send us your reports.
Our editor team will take review your article, and after that, we will contact you to publish it on the Country living blog
Search Terms For Travel Write For Us
" course guest posting "
"guest posting fiverr"
"Keyword"
"write for us travel paid."
"write for us travel guest post."
"tour and travel write for us"
"write for us" + travel paid
write for us travel agency
family travel write for us
hiking write for us
write for us + adventure
"guest post" + travel
write for us travel usa
food write for us
"write for us" + travel paid
write for us hiking
blogs write for us
write for us general
write for us outdoor
family travel write for us
Why Write for Countrylivingblog Travel Write For Us

Search Queries For Country Living Blogs
"write for us" + organic food
write for us organic food
real estate write for us
write for us real estate
write for us shopping
real estate write for us
real estate "write for us"
"write for us" + real estate
write for us + home
food "write for us"
write for us home
shopping write for us
"write for us"+ food
real estate + write for us
"write for us" + home
"write for us" home
real estate write for us
write for us bags
"write for us" food
home "write for us"
write for us home construction
organic food write for us
write for us engineering
food + "write for us"
write for us "real estate"
"home decor write for us"
write for us home decoration
words that start eith ca
"write for us" + "real estate"
home decor "write for us"
dog food write for us
write for us property management
write for us+shopping
home decor write for us
write for us + home decor
home improvement "write for us"
home blog write for us
Related Pages
denim write for us