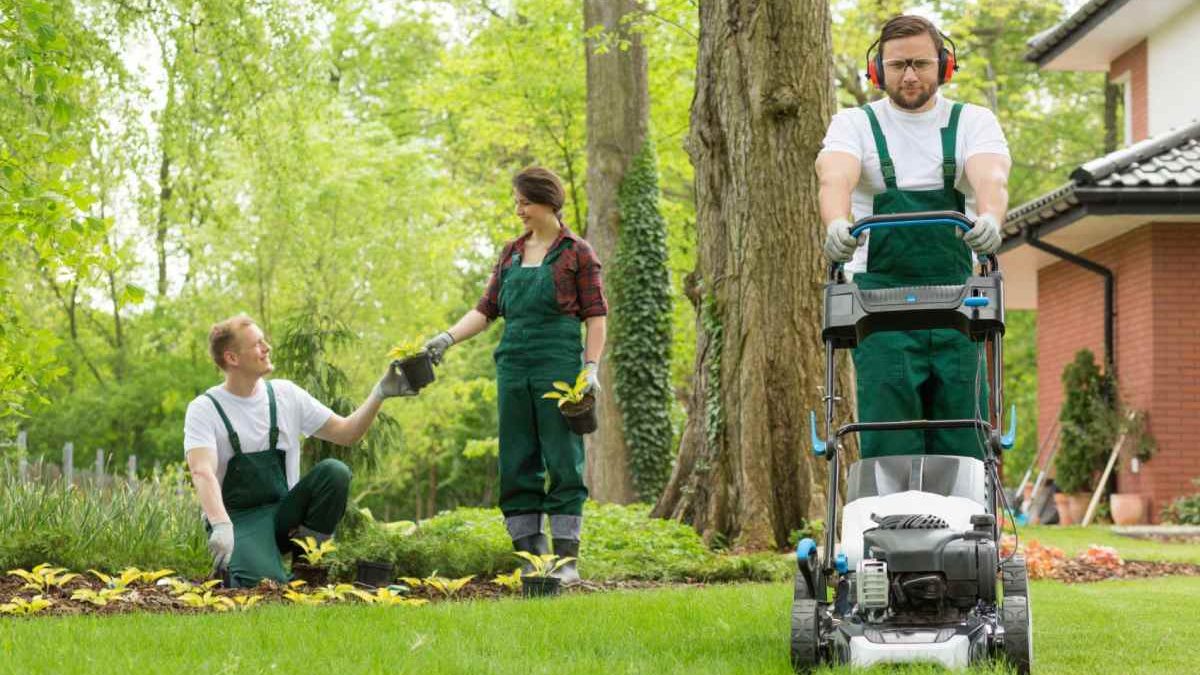 Unless you are posting a yard work help wanted poster for lawn care services to take care of your weekly yard work, every homeowner will rely on a handful of vital tools to take care of a turf-grass lawn. Some of these tools will be used so frequently that you should own them, while others can be rented from time to time as the need arises.
Whether you're a passionate gardener or a new local lawn care business, the following are a few of the must-have tools to add to your collection that will keep your lawn healthy and lush-green.
Essential Landscaping Tools
Hand Tools
Hand Trowel
The most basic yet quintessential of all landscaping tools, the hand trowel is the Swiss Army knife on our list.
Trowels function as mini hand shovels that are perfect for removing weeds, prying loose stones from the soil, digging holes, and even measuring them since later versions included serrated blades that allow you to accurately check out the hole you excavated.
When window shopping for trowels, look for something that feels very ergonomic-looking and comfortable, as well as choose a weight that sits right with your hand – you'll know it's the perfect trowel for you when you try weighing it with your grip.
Garden Rake
Another useful addition to our landscaping tools list is the humble garden rake.
Garden rakes are long-handled tools with rows of teeth serving as its head that you can use to gather leaves and loosen or dig the soil.
You'll want two types of rakes: a steel rake and a leaf rake.
A steel rake is firm and durable; they are ideal for spreading dirt, splitting up rocks from soil, laying mulch, and grooming gravel paths.
A leaf rake is a lighter version made of flexible plastic that works best at gathering fallen leaves, grass clippings, twigs, and other debris that might stumble upon your yard.
When buying a rake, look for ones with wooden handles since they are the most durable and economical choice compared to steel or fiberglass handles.
Shovel
Like its shorter cousin, the shovel is a simple garden tool that will be a staple in your lawn care tools. From simple tasks like digging, planting, and moving greenery, the shovel will do a reliable job every single time.
Since this will be a mainstay tool in your collection and its main task is digging holes, we recommend buying a high-quality shovel with a head made from stainless steel since they're lightweight, sharp, durable, and easy to clean.
Also, landscaping professionals prefer getting a shovel with a fiberglass handle since it's more durable than wood handles and lasts longer under extreme use.
We also recommend getting a snow shovel to go with your regular shovel if you're living in colder climates since they are incredibly helpful in clearing out densely packed ice from your lawn.
Shears
Shears are lawn tools used for trimming and pruning tree branches, vines, and shrubs. They are your main landscaping instrument for taking care of your plants, as well as unleashing your creative side you didn't know you had.
There are three must-have shears to add to your landscaping hand tools:
hand-powered pruning shears – work best for decorative plants since they offer more control in getting rid of those unnecessary branches.
hedge shears – Their large scissor-like blades are ideal for creating artificial shapes that look good on your hedges and shrubs.
Long-handled pruning shears –also known as a lopper, are necessary for maintaining the curb appeal of your trees. These two-handed versions of the pruning shears have long handles and large blades that will get too hard-to-reach areas like high branches.
Sprayers
While not a must-have lawn tool, sprayers help lessen the burden of labor-extensive tasks like weeding. They are tools that spray liquids like water, insecticides, pesticides, herbicides, and fertilizers.
When choosing a sprayer, we recommend getting a 1-gallon pressurized pump-handle sprayer for pesky weeds and a wand-style nozzle since they offer better control over most spray heads.
You can also use them to dispense liquid fertilizer and spray them on your flower beds.
Landscaping Equipment
Bucket
A bucket is a must-have equipment for any landscaping equipment list since you can do so many practical things with it. From carrying solid items like pebbles, disposing weeds and dead leaves, to carrying water for your plants if you don't have a hose available.
When selecting one, go for heavy-duty plastic buckets with a sturdy and ergonomic handle. That's because metal buckets, however pleasing it is to the eye, are prone to rust and corrosion, especially if it meets water frequently.
Plastic buckets, on the other hand, completely resist those effects even when consistently used. Plus, they are almost immune to dents and blunt damage due to their flexible nature.
Wheelbarrow
The bucket's big cousin, the wheelbarrow, is a small cart with a single wheel at the front and two supporting legs at the back.
They are used to carry big and bulky loads that buckets cannot handle. In landscape equipment, wheelbarrows are mainly used to carry either your tools to the yard or lawn debris for disposal.
When looking to buy one, we recommend getting a steel wheelbarrow since you'll be using it to handle big loads that plastic wheelbarrows cannot handle.
Spreader
A spreader is a piece of lawn care equipment specifically used to evenly distribute water, insecticides, pesticides, herbicides, and fertilizers across your lawn. Their common use is fertilizing equipment.
Spreaders come in two general types:
broadcast spreaders – a rotating arm scatter materials as you push the spreader across the lawn.
drop spreaders – the materials are dropped down between the wheels of the spreader based on walking speed.
Even though they aren't pricey tools, they aren't a common sight to see. However, if you're serious about your yard's health, then you can rent one for just a few bucks a day for a few times a year.
However, if you're looking to buy one, we recommend getting a broadcast granular spreader since it evenly distributes fertilizer (you'll most likely use it as fertilizer spreaders) across a large area on your lawn.
Power Tools
Lawn mower
Every homeowner who tends to their own yard knows that this is the best lawn care tool you can ever own. Lawn mowers fall into one of two types: reel mowers and rotary push mowers.
Reel mowers vertically spin the blades and use a scissoring action to cut grass with the help of a bed knife while rotary push mowers cut grass by horizontally spinning a blade hidden beneath a metal deck.
When choosing a lawn mower for the first time, we recommend getting reel mowers with electric models. Not only is it very eco-friendly, but electric mowers typically generate less noise than their gas-powered cousins when lawn mowing, which your neighbors would appreciate.
String trimmer
Also known as a weed whacker, this tool is the handheld version of the lawn mower.
A string trimmer is a gas or electric-powered tool that whips out a nylon string at high speeds to cut off grass instead of a blade that a lawn mower cannot normally reach. You can also use it as an edger to cut a trench on the very edge of your lawn or driveway.
Due to that versatility, the string trimmer is a common sight in any homeowner's landscaping tools and equipment. When eyeing to buy one, we recommend getting battery-operated string trimmers since they produce less noise and pollution compared to their gas-powered counterparts.
Leaf Blowers
The motorized version of a rake, a leaf blower is either gas, electric, or battery-operated lawn care equipment that blows leaves and other debris out of garden beds, yards, and patios.
While rakes can do anything they can do, the upside to buying a leaf blower is their speed since they can clear out debris in a short amount of time.
We recommend buying a battery-powered leaf blower since it's less noisy than their gas-powered cousins. We also recommend buying one that can also function as a leaf vacuum for easy junk disposal.
While leaf blowers do wonders on private estates and for commercial purposes, we do not recommend buying one if you live in a strict gated community.
Gas or Electric Aerator
Also known as a core aerator and power aerator, a lawn aerator is a large, heavy roller that removes plugs of soil and grass on your lawn, making it easier for water, air, and nutrients to penetrate the roots of your grass.
Aerators are particularly helpful for rejuvenating a worn-down lawn since it helps relieve compaction in the soil.
Power landscaping tools like these are on the pricier side, and you don't need to own them since you only need to aerate your lawn once every couple of years, so we recommend renting a lawn care service to do it for you.
Safety Equipment
When working with dangerous power tools that can potentially injure you or your landscapers, it's imperative to give them high-quality safety equipment to avoid these scenarios.
The minimum safety gear includes:
Eye protection
Ear protection (for gas-operated power tools)
Long-sleeved shirts
Gloves (synthetic, latex, leather)
Foam knee pads (to avoid any planting-related irritation)
Steel-toed boots (for working around heavy equipment like a lawn tractor)
winter gear (for snowy areas)
Where to Find Landscaping Equipment
Landscaping tools can be easily bought in any local hardware store near you or even going online; just make sure you check plenty of reviews before swiping your card.
Also, high-quality equipment will work more efficiently and come to a long life if maintained well. However, while investing in landscaping tools, ensure you buy only the necessary tools.
Choosing tools from renowned brands is important because you will find replacement parts easily. Large stores like Home Depot are known for harboring decent landscaping tools and replacement parts at very affordable prices.
Conclusion
Overall, you need essential lawn care tools as well as the right lawn care equipment to carry out a successful landscape. In fact, using the right equipment makes your yard work efficient and fast.