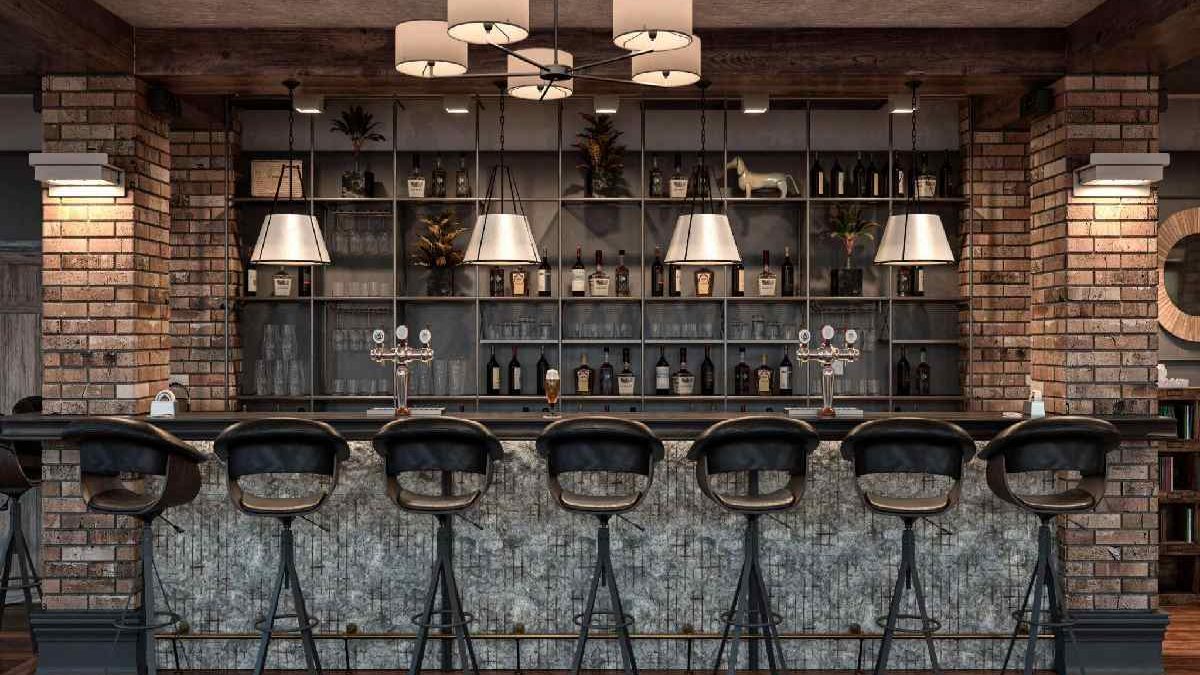 Bar Stool – It's not uncommon for people to have their own personal bar area in their home, if funds and spacing permit. While a liquor cabinet is common, some folks like having a counter space in their kitchen or basement to serve as a bar area.
Along with that, they may have some bar stools. While not everyone finds them comfortable, they do add a definite atmosphere to a home bar area. The trick is finding the right ones to meet your needs, both in style and comfort.
Pick the right height
An important part of the planning process is determining the ideal height for the bar stools you intend to purchase. If they're too short or too tall, the stools will be uncomfortable and unlikely to be used very often or for very long.
Of course, every person is different, so finding the right sized stools can be tricky. Generally, you want to measure based on the height of your bar or counter, which are usually 36 or 42 inches, although your height might vary.
Choose your style
While looking for the ideal heighted stool, you also want one that fits with your desired style and color options. If you're thinking more traditional materials and looks, you've probably considered a bar stool from AmishFurnitureFactory.com.
Perhaps you're looking at more modern options. Either way, the stools should compliment whatever design you have in mind regarding your bar area. There are a lot of options these days, but knowing what you have in mind will help narrow down the search.
Simpler is better
While there are a lot of styles and materials to consider when looking at bar stools, the less ornate designs are often considered the better options. Overly designed furniture isn't usually as comfortable as sleeker options.
Of course, a simple design doesn't have to be boring. Whether looking at sleek wooden furniture or modern metallic pieces, sturdy construction and colors can make for a perfectly viable option. It may not stand out too much, but, since people will be sitting on it, it doesn't need to, either.
Consider back comfort
At their simplest, a bar stool is effectively just that: a stool you sit on instead of standing. Such stools lack back support, and while that might not be a problem for some, others might prefer the support.
Whether you choose stools with back support or not is ultimately your decision, but you should take the needs of yourself, your household, and your guests into account. Backless bar stools are pretty popular, especially for swivel stools, but low back and high back support options are also available.
Colors matter as well
Style was previously discussed, and, as part of that, it's worth remembering to take the coloration of the stools into account. You want pieces that will compliment or accent your existing palette. Whether the stools come from an Amish wood furniture shop or a local bar that's upgrading, you want the stools to blend in with the other furniture, especially the counter.
A bit of contrast is okay, though. Say, with wooden pieces supported by metal accents. The design choices are varied and plentiful, and it can be daunting looking through all the options. Fortunately, since you all ready have an idea of your design layout and coloration, you have a great starting point for your selection process.
More advanced options do exist
Just because you may prefer a sleeker, simple design, doesn't mean that the stool has to just be a block of wood. Bar stools are a lot more convenient than they used to be, and that gives you options at home as well as at the bar.
As previously mentioned, swivel stools are common. These allow guests to easily turn in their chairs, either for talking with guests or getting up to make a drink. While these stools are often backless, that isn't always the case. With some searching, you should have no problem finding the ideal swivel stools for your bar.
Another option you might want to consider is adjustable height. Generally a feature in office chairs, some modern bat stool designs offer this option as well. Since finding the ideal stool height is often the largest issue when shopping for them, an adjustable option can seriously narrow down the search.
Buy sturdy
A bar stool should not be a cheap piece of furniture you keep around for looks. People will be sitting, socializing, and, likely, drinking. People who drink in bar stools sometimes find themselves on the floor or counter, and cheaper pieces won't be able to hold up to that sort of abuse.
For a more durable bar stool, wood or metal options are usually the best. Plastic stools do exist and can work in a pinch, but they are rarely sturdy enough for long term use, especially being rather top heavy if they have a back. The material is part of the design, though, so whatever you think will match your layout while holding up to user's drinking should do the job just fine.
Cushion or no cushion?
This is another common conundrum when selecting bar stools. Both options are viable, and will depend on the desired comfort of the sitter and the materials involved. For example, a metal stool without a cushion might get sticky or cold in certain temperatures, while a cushion-less wooden stool might be a bit too rigid for proper comfort.
Of course, if the stools don't have cushions and you happen to have some extras, that's an option too. Buying the cushions separate can help with height differences of guests, stools, and also provide more options for people using the stools to make themselves more comfortable as needed.
Buying a bar stool involves a lot of questions, but these questions are more or less the same as any other piece of furniture you sit on a lot. Design, material, comfort, and color matter just as much with a bar stool as with a kitchen chair. With the same planning as when you designed your original bar are layout, you can find the ideal stools for your needs.